The Show
Domlander - An Outrageous Fetish Show and Competition
The Panache, The Style, The Look!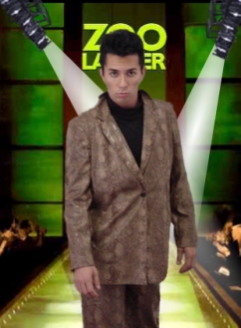 Domlander...an outrageous fetish competition open to Tops, bottoms, Doms, subs, and slaves! Pick your song, pick your outfit, pick your props, pick your moves, and then hit the runway!
Entry is free, and anyone can enter (contestants are required to purchase a ticket at a 50% discount).
A Decade of Domlander calls for some very special judges...and Domlander 11 has put together an amazing panel of judges that are totally SO HOT right now! This year's deciders of who will walk down the runway with the coveted title of Mr. or Ms. Domlander 2013 include Ms. Beverley of Vancouver, long-time member of Sagacity and one of the original judges for Domlander 1, Trailmaster of Vancouver, Master to the lovely Monique, co-owner of Badass Canes, and long-time member of the British Columbia kink community, Jim the Meatman, Vice-President of Sagacity, MsBlaze, Secretary of MVK and long-time Sagacity friend, and last but not least...although definitely the farthest away...Domina Diva, active member of the Winnipeg kink community and Sagacity's liaison with Manitoba.

Competitors will be judged in five catagories including:
Originality,
Performance,
Attitude and Stage Presence,
Outrageousness, and
The "Sagacity Look."

To really get a feel for what will take the coveted crown home, be sure to rent and watch our Domlander namesake movie, Zoolander. Remember...the song you pick is very important and should be the foundation of your performance. Find a song, get a picture in your mind, and then use the song and your skills to tell a story. The more vanilla the song, the more delightful the perversion (and the more likely you are to impress the judges). People "props" are welcome!
Here's how it works... each competitor (or team) gets +/-3 minutes on the runway to strut their stuff, wow the audience, and impress the judges. Ties will be broken by a walk-off, where the audience response determines the winner.
Have you got "The Look"?
Sign up now and set the Dominant fashion standards for 2013!
Domlander 2013 contestants will be required to provide their scene name of choice, 2-3 minutes of their own music in CD format, and a brief description of their costume/theme for the program.
"I caught my reflection in a spoon at the cafeteria, and I remember thinking Wow, you are ridiculously good-looking. Maybe you can do that for a career.?"--Derek Zoolander