Kink Bits
Tidbits of kinky thought material...
Welcome to Kinkbits!
You've found the right place to hang out when you are looking for a little humor, a little thought-provoking content, or maybe just a little reminder that BDSM is about smiling just as much as it's about spanking!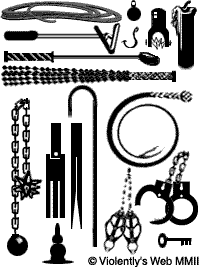 Take a bit of time to refresh your memory in the Things We Said. You can enjoy some of the amusing and insightful replies to many of our questionnaires from our Tuesday "Fill-In-The-Blank" nights.
Feeling a little empty? How about a fish nugget from the Fish Bowl to take the edge off? Served up with tartar or cocktail sauce, each little tidbit is sure to tickle your taste buds...or at least give you something to chew on!
If you don't understand what's going on here, you might want to find out using our Deviants Dictionary, where you can find real explanations of lots of the terms you will see on these pages.

Kink Bits is always changing and growing. We welcome any and all development ideas that our members might have. Please send comments or ideas to our Web Cult